Now that the rain has subsided, maybe the Buckeye State can enjoy the summer sunshine and higher temperatures… or as we call it in Los Angeles, "Wednesday". Today's soundtrack hearkens back to the halcyon days of the 80's, before I had to actually pay for air conditioning. Back then, I thought that a Power Station meant something completely different…
Buckeye 411
Watching The Watched, Men- Following up from last week, we've got a few more Buckeyes on "watch lists" this week. Two thirds of the secondary is on the Thorpe Award list- Roby, Barnett, Bryant; while Corey Brown and Devin Smith were named to the counterpart Biletnikoff list. Ryan Shazier doubled dipped this week, being targeted for the Butkis and Lombardi lists; he joins Andrew Norwell on the latter.
Thoughts And Prayers- Go out to the family of Buckeye legend Jim Jackson, who lost his father this weekend.
"I ain't drunk… I'm just drinkin'" I'm pretty sure that Marcus Baugh is not familiar with the work of Albert Collins; just as I'm sure that Mr. Baugh is going to be intimately familiar with the work of strength coach Mickey Mariotti following the news from this past weekend. If you hadn't heard, Marcus was arrested for underaged consumption and use of another person's identification– it sounds like a double dose of trouble, to be honest. If you believe message boards and whatnot, Baugh was brought back to his dorm when initially confronted by police; he chose to return to the party and use another student's ID when confronted a second time. We'll continue to monitor this as it develops.
Urban's Fault? With everyone jumping on the bandwagon to blame Coach Meyer for global warming housing bubble crash assassination of Archduke Firdinand the Aaron Hernandez situation, it was interesting to read an account of the Meyer legacy from someone who was actually there. You know, in stead of someone who's digging for pageviews and interviewing disgruntled former players.
Your Killing Me, Small(s)- MotSaG with the latest in this trainwreck.
The Game, Junior- Since Pennsylvania backed out of their annual High School All Star game against Ohio's best (I guess they couldn't handle the annual loss, in spite of the shady officiating), That State Up North has stepped up the the challenge. As the OZone's Tony Gerdeman notes, this event will see the best from Michigan and the best from Ohio play for bragging rights, beginning next year. Several of our twitter friends pointed out that this matchup will feature TTUN and OSU players against MAC Conference players- unless, that is, Ohio's roster gives players to Michigan to make the game interesting. You know, just like in November.
Buckeyes Grow On Money Trees- Kyle Rowland from 11Warriors with a great article Tuesday morning about the spending habits in college athletics.  Guess what? The teams that spend more are more successful.
Lineup- From Sammy Silverman, the front wall of the B1G's best offense: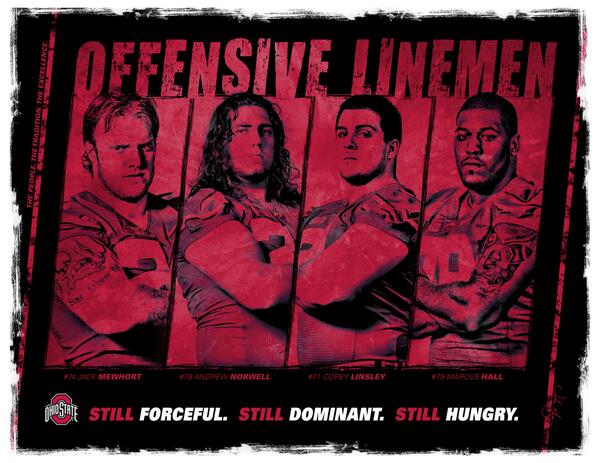 Commentary– Rule on Hits Misses.

One of the most disturbing stories this week is one that continues to highlight the changing face of football.
Both the NFL and the NCAA have highlighted concerns regarding player safety; concussion studies nationally (including work done by Ohio State and Nebraska) are continuing to point out the damage that the game can have on those who participate. Knowing what we're becoming aware of, it would be unwise NOT to work to minimize the lifelong impact on players. This is particularly true at the high school and college level- we've talked before about the idea of health management and the NCAA.
The recent rule change highlighting "targeting" defenseless players come from these concerns. For a quick overview, Charles covered the NCAA changes while an earlier SBP talked about this as a part of the larger debate regarding the future of college football.
This week, then, the B1G began to outline what this might look like as they are instructing officials in preparation for the season. The overview, while simplistic, seems to be "when in doubt, throw them out" (eject players). Here's a conversation with the conference's officials coordinator that outlines the new expectation.
The backlash was, well, predictable. As someone who played and coached football in addition to having my butt planted in front of the TV on Saturdays and Sundays, I echo the sentiment that these rules will be hard to manage, will have a greater impact than should be expected, and are part of a gradual change to college football becoming glorified 7-v-7 competitions played two hand touch or with flags. However, as I said in the article linked earlier- I understand the concern and realize that something needs to be done in this area.
Ramzy takes a more in depth look at the in-game problems the B1G's rules will create– judgment calls, in the moment, on plays that move faster than most can fathom, made by people who may have questionable abilities in the first place. And who gets tossed when a legal form tackle becomes head to head after the runner lowers his helmet into the hole?
While I find those issues concerning, I'm also worried about the national inconsistency that's going to exist in this area. Look, I'm a believer that the B1G should be a Legend Leader in college athletics, but am worried that this emphasis, with the "when in doubt, throw them out" mantra, will effectively mean that the conference will be playing by different rules than the rest of the country.
For example- This was flagged by B1G officials in last year's conference championship game, in spite of the fact that the hit in question occurred as part of the play in process:
This was not flagged by SEC officials in last year's conference championship game, in spite of the fact that the hit in question occurred away from the play in process:
I'm sure you can imagine the impact (as it were) that this inconsistency might have- key players from one conference missing meaningful game time, to the point where games themselves might see their results changed, while other teams don't suffer the same fate. Imagine if "holding" meant something different depending on who was playing… whoops, bad example, huh Wisconsin fans?
Given the current state of college football, the possibility of a one loss team making a playoff or a major bowl game is a reality; but what it there's a two loss team who dropped a game where a player was controversially ejected at a key moment?
Another area where this might be an issue is during the postseason. Given that conferences provide officials for games not involving their programs, will a bowl game have issues where teams have to adjust to new interpretations or implementations of common rules? Arguably, we saw some of this during March Madness this past year- the B1G allowed for much more physical play during conference matchups, and in the Tournament many of the top programs saw early exists due in part to foul trouble.
We'll continue to monitor this as the season progresses- I imagine that this will easily fit into Monday's The Week That Were reviews. In the meantime, unless the B1G moves toward pressuring other conferences to work toward similar standards, it seems like a mistake to make such a potentially drastic move as sudden as it's being implemented.
Media Matters
Mark May Is An Idiot- Or "WFS", as Eric likes to call him.  The great folks at SBN's "Good Bull Hunting" have helped America by highlighting that Mr. May's "holier than thou" schtick is built on a ground of hypocrisy… hypocrisy, DUI arrests, and "disorderly conduct, resisting arrest, criminal mischief, terroristic threats, and inciting a riot".  Gosh, I never would have guessed.
More Money, More Problems- We've discussed the "Sports Television Bubble" in this space before; that the money that drives conference expansion and athletics "narratives" comes from TV revenue, and that there are are some rumblings about this being a precarious proposition.  If nothing else, it works against "journalism", since networks are business partners with the programs and athletes they are covering.  At any rate, three great articles this week about the finances involved and the impact on cable viewers- even those who (like some of us) no longer watch the Four Letter Network. Sports On Earth's Patrick Hruby gives a great overview to the situation, while the Wall Street Journal adds their insight ($). Finally, Conference Expansion Guru Frank The Tank takes a different perspective and says that the issue isn't as simple as folks might like to make it appear.
Meanwhile- Our friends at Fox Sports have a little something up their sleeves:
B1G Brothers
Around The NCAA
SEC Media Week– Monday through Wednesday are the SEC Media opportunities; get ready for the "Manzieling" all day Wednesday. SBN reminds us of some of the greatest quotes and moments from years past, and this year didn't disappoint.
Someone's Grumpy- Florida's Will Muschamp, in particular, seems to still be digging out from underneath the Urban Meyer legacy, and took yet another subtle shot at the Buckeye program during his time at the microphone. Commenting that he was thankful (sarcasm alert) for his "friends from Ohio" helping ensure that the Gators were compliant with NCAA regulations, since "they certainly know a little bit about the subject". Referring to the recent concerns regarding a player being "bumped" during a dead period (something that was discovered by an OSU person reading a national media story), Muschamp went on to seemingly talk about the Hernandez situation; holding that coaches are 100% responsible for the actions of their players.
Couple of quick thoughts- First- What did Coach Solich ever do to you? Second- Didn't Florida report Ohio State for the improper "bump" of Noah Spence? Third- Gator fans, if you'd like to distance yourself from the Meyer era, feel free to send that 2006 trophy to Columbus and the other one to Norman. Otherwise, shut your yap.
And Finally- Soon.