Every morning, we will give you five things from the night before in the NBA to start your day.
1: Dead sails in Windy City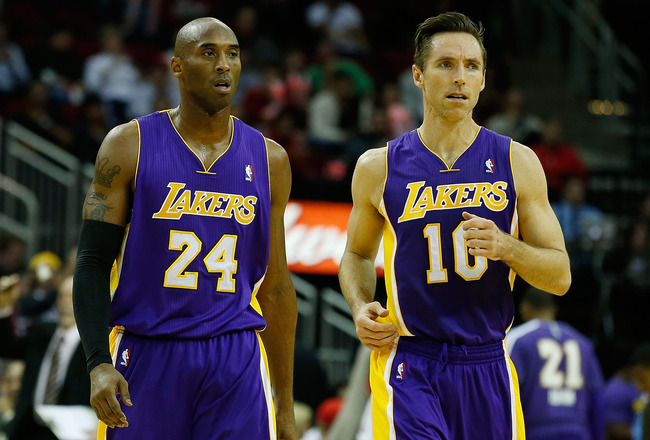 Tomorrow afternoon at 4 p.m. ET, Kobe Bryant and NBATV announced that Bryant will be live tweeting a viewing of his 81-point game on the seven-year anniversary.
It might be a welcome respite for Bryant as this season has turned out to be very much like that season seven years ago. Bryant has had to carry the offensive load as his team languishes in the middle of the Western Conference pack. Of course, that team had Smush Parker not Steve Nash and Kwame Brown not Dwight Howard.
Los Angeles' trip to Chicago was already embroiled in controversy with Mike D'Antoni announcing he would start Pau Gasol off the bench until further notice.
No type of lineup tinkering worked as the Lakers went cold down the stretch. After tying the game up at 79, the Bulls went on a 16-4 run to end the game and take a 95-83 win. Yes, Bryant's entire team scored only two more points than Bryant did individually seven years ago.
The obsession with the Lakers will have to end at some point. The plain truth is becoming apparent with each clanked Kobe Bryant jumper or Steve Nash turnovers — this is not a very good team.
The Bulls on the other hand are apparently a decent enough team. Chicago is on a big winning tear and it appears that Derrick Rose is getting closer and closer to returning. Marco Belinelli and Kirk Hinrich stepped up to lead the Bulls to the victory at the end.
2: It will be ugly
There is a reason they call it the Grindhouse. And with the top two defensive teams in the league palying against each other in a Monday afternoon matinee, you knew things could get bad.
Indiana and Memphis combined for 35 total turnovers and neither team eclipsed 90. But when it came down to crunch time, this game had it all.
Paul George, a potential Eastern All Star for the first time, drained a 3-pointer to give the Pacers a lead. Rudy Gay's shot for the win went in but was after the buzzer giving the Pacers an 82-81 win.
This game had been about defense the entire way though. The Grizzlies gave up 49 percent shooting to the Pacers but forced 20 turnovers and grabbed 14 offensive rebounds. That will help out any team that shoots 42.2 percent from the floor.
If you want to know how defensive this game got, the Pacers had 11 blocks!
So maybe this one was difficult to watch. Maybe the start time had a little to do with it. Maybe the teams did. But in the end you had an entertaining game. But somehow I do not think David Stern will want to see these two teams in the Finals.
It may not have been pretty, but these are two teams quietly making waves in the league.
3: HIGHLIGHTS!!!
Eric Gordon coming through
Biyombo block, Kemba 3
Look out below
4: Line of the Night: Stephen Curry — 28 points, 9/14 FGs, 6/8 3FGs, 6 assists
Stephen Curry made an All-Star type statement in this big matchup with the Clippers. His effort helped propel Golden State to the win and a 3-1 series victory over the team's Pacific Division rivals. This game though just seems to defy statistics. Curry was deadly efficient and had some killer assists to spread the ball around. But try these numbers on for size too: 85.7 percent effective field goal percentage and an 88.8 true shooting percentage. Efficient.
5: You can quote me on that
I just hit the hardwood on one of those nails, really hard. It busted my knee wide open. It kind of felt funny when I tried to explode up the court when we got the ball and I tried to cut to the basket, so I had to come out and see what was wrong before I injured it worse.
-Kawhi Leonard describing an odd injury in the fourth quarter in Philadelphia
We're like a family. Guys put that in the back of their head. We understand we have one goal and that's to win games and challenge for a championship. It's a long season. Things are going to happen. Heads are going to get butted. But we all love each other. We all know it's for the best of the team.
-Bulls forward Taj Gibson on Joakim Noah bouncing back after sitting out crunch time Saturday