Every morning, we will give you five things from the night before in the NBA to start your day.
1: Throwback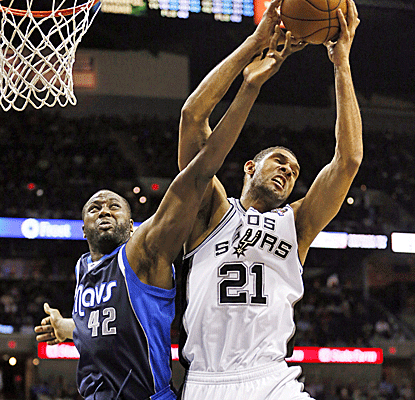 Making some kind of age reference when it comes to the San Antonio Spurs is cliche.
The Spurs just are excellence. They win and win and win. Even that line is cliche.
It is just impossible to describe the Spurs in pretty much any other way. San Antonio is just so consistent that not only are their expressions as they dominate you boring. Even the way to describe them is boring. Sorry, guys.
The Spurs do it time and time again and they did it again with a sweep of the Dallas Mavericks and a 16th straight Playoff berth and 50-win season. The Mavericks made a thrilling comeback and took a late lead, but the Spurs do what they do. They calmly and quietly took the Mavericks apart and did enough to win 92-91 at AT&T Center as Vince Carter missed a game-winning 3-pointer at the buzzer.
Tim Duncan put in a truly memorable performance with 28 points and 19 rebounds, deconstructing the Dallas defense like he was a spry 26-year-old rather than a 36-year-old veteran. Duncan used that day off for some good benefit and he looked fresh.
The Spurs admit they are a bit out of whack with Tony Parker out of the lineup. You can see it even though San Antonio keeps winning. But guys continue to step in and step up. Kawhi Leonard, Tiago Splitter and Danny Green have all had big games in this latest stretch.
San Antonio never went away. And they are not going away.
2: Dame's world
Life is good right now for Damian Lillard.
He is on the cover of DIME Magazine. He is sporting a new shoe from adidas. And he is once again the NBA's Rookie of the Month — sweeping each of the monthly awards. The only thing Lillard does not have going for him is a Playoff spot to play deep into April.
Do not tell Lillard or the Blazers that the Playoffs are beyond reach though. Portland continues to fight and facing undermanned New York, Portland put the hammer down behind the team's stellar rookie.
Lillard scored 26 points and dished out 10 assists in a 105-90 win over the Knicks at the Rose Garden on Thursday. Lillard was not alone in this one. Nicolas Batum stepped up down the stretch in the fourth quarter after the Knicks brought the lead to within four points.
Portland needed Batum and Lillard in a big way with LaMarcus Aldridge dealing with migraines. Of course, he still had 22 points 22 points, 10 rebounds and five blocks. If only we could all play that well with headaches.
This game was about Lillard and the stage he had on national TV. He took control of the game at points and continues to develop as a point guard. The future sure seems bright.
3: HIGHLIGHTS!!!
Southpaw Timmy Duncan
Ginobili splits the D
J.R. jam
4: Line of the Night: Tim Duncan — 28 points, 19 rebounds
It was a fun throwback evening for Tim Duncan as he put on a 20-point, 15-rebound performance reminiscent of his younger days. He joined Dwight Howard as the only players in the league with multiple 20-point, 15-rebound games this year. Duncan still puts in games like these every once in a while. Probably more often than you think. Maybe Duncan is not aging as much as we think.
5: You can quote me on that
I just contested and prayed.
-Spurs forward Tiago Splitter on defending Vince Carter's potentially winning shot
We're going through a section of time here where we're not playing the greatest of basketball. Obviously, with Tony out of here, our offense is a little limited with the guys we have in there. But outside of that, we just don't have a rhythm right now.