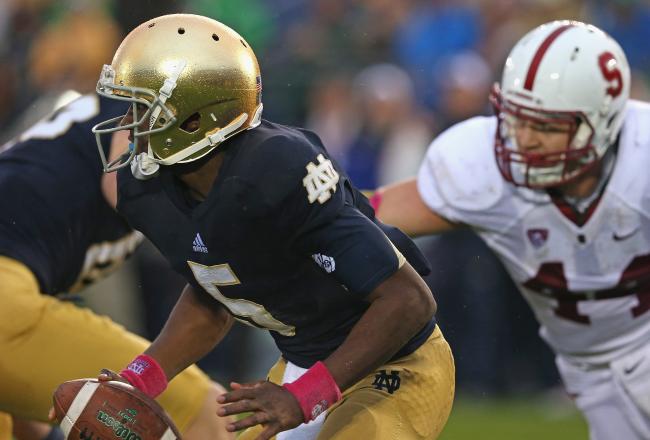 BYU at No. 5 Notre Dame

Saturday, 3:30 PM, NBC

Line: Notre Dame -14
The Notre Dame machine looks to continue its march towards a January BCS bowl game and a (given the right circumstances) a shot at the BCS title against a BYU squad that is looking to advance to five wins on the season.
Two of the better defenses in the country meet on Saturday in a game where the first team to 13 points could very well win it.
For BYU to win: The Cougars must protect the ball. Quarterback Riley Nelson threw three interceptions last week in the loss to Oregon State, with one of those interceptions being returned for a touchdown. Nelson was also sacked four times. He did not fumble, which is a positive. According to the BYU blog Vanquish the Foe, Nelson has turned the ball over 19 times in his 11 career starts. That's was too little ball security from the (now) starting quarterback.
For Notre Dame to win: Score points. This is not an easy task, as BYU's defense has been stout in not allowing points (untl last week). Even after allowing 42 to Oregon State's backup quarterback, BYU is still 7th in points allowed this season. Notre Dame is 69th in points scored. The Irish have gone over 20 points only twice in their six games, but those were against much lesser defenses. The offense has to step up on Saturday.
Key Player, BYU: Riley Nelson, quarterback. The senior has already thrown more interception than he did last season, and also been sacked nearly as much. As referenced above, the ball security and even field position integrity is going to be crucial to BYU's success this week. Nelson needs to do what he can without forcing the issue if the Cougars are going to have a chance to win in this game. That means keeping the team on schedule, not taking sacks and being smart with the football.
Key Player, Notre Dame: Tommy Rees, quarterback. In a game with so many talented defenders, the quarterback play on both sides of the ball will be critical and worth focusing on. Everett Golson, the starting quarterback for the Irish is suffering lingering effects of a concussion but is expected to start. Rees, however, has come in from time to time as the closer. If this game is as close as it could be (14 point line notwithstanding), then Rees could be in a position to deliver some fourth quarter or overtime heroics. If the Irish are lucky, Rees doesn't see the field. If he does, it might be more of a nailbiter than they want.
Key Stat: 260.9 & 287. The yards per game allowed by BYU (fifth) and Notre Dame (11th) this season. Forget the 14 point spread; this is reading like a 10-9 kind of game unless one of these defenses forces a multitude of turnovers. It looks like a low scoring, old school, old man (™Sheldon Richardson) type of game.