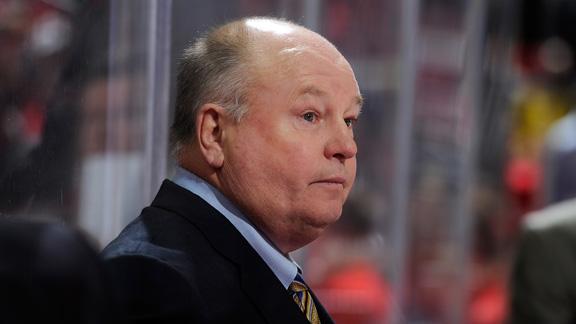 No one can ever dare accuse Anaheim Ducks coach Bruce Boudreau of being a shrinking violet. Loud, opinionated, and brash, he has a polarizing personality that is either love him or hate him (disclaimer: I tend to fall into the latter camp). He's found recent employment, as fired and off-season coaches do, on CBC's Hockey Night in Canada as a guest commentator. Boudreau spoke with CBC.ca regarding the recent spate of violence in the playoffs, and as usual, it's uninformed claptrap. Here're some highlights:
CBCSports.ca: The talk of the playoffs so far has been the fighting and hits the head and how it's gotten out of the control. What's your assessment to this point?
Boudreau:I don't think it's out of control, I think it's what want people want. Hockey players and the sport itself is a really competitive sport. We build from the minute we start training in the summer for one goal and that's to win the Stanley Cup. And that's what everybody bases everything on. ... It's just when it comes to playoff time everybody is so ramped up. The media has ramped you up, the coaches have ramped you up, the organization has ramped you up to win the Cup. It gets highly competitive. Players go at it like they've never gone at it before. That's the way it is.