Fresno State quarterback Derek Carr put up big-time numbers at the 2014 NFL Scouting Combine and has made a compelling case for his draft stock.
I'm intrigued by Carr, and believe his ceiling is high. But he's raw, and his mechanics need work.
After watching a lot of film on the young QB, I think if one were to construct the perfect NFL quarterback based on physical tools only, the final result would look something like Carr. Let's take a look at how he measures up.
Elite physical tools
At the combine, Carr ran a blazing 4.69-second 40-yard dash. To put that number in perspective, the former Fresno State standout was just 0.01 seconds slower than speedster Johnny Manziel.
Carr also finished second in his positional group in the vertical jump with a 34.5" hop and posted a respectable broad jump of 110". Such numbers prove that the signal caller is an explosive athlete capable of shaking off opposing pass rushers and letting deep passes fly.
Frame-wise, Carr checks in at just over 6'2" tall and about 215 pounds. His size is not an issue.
Along with his remarkable athleticism and decent build, Carr's right arm is a cannon. There's absolutely no question that the signal caller can hit any target down the field. All told, Carr has a rare arm.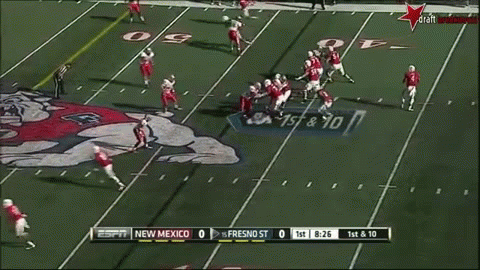 28.) Derek Carr/QB – Footwork is often sloppy & pocket presence questionable, but he has a strong arm and leadership skills. #LownesBigBoard

— Ryan Lownes (@ryanlownes) February 26, 2014
At this point, one may ask why Carr hasn't supplanted Teddy Bridgewater, Johnny Manziel or Blake Bortles as one of the three best quarterbacks in this class. Charlie Campbell of Walter Football said this about the Fresno State product:
"Carr was smart in his decision-making in 2013 while demonstrating a strong arm with good field vision. He is a developed pocket passer. Carr can make all the throws that the NFL requires and does an impressive job of taking what a defense is giving him. He is patient and spreads the ball around. For the next level, Carr looks like a natural pocket passer. He isn't a dual-threat quarterback who will burn a defense with his feet, but he can move around when he has to and make throws while rolling out."
Something I think a lot of the armchair guys don't realize, is that Derek Carr has the work ethic his brother never did.

— Benjamin Allbright (@AllbrightNFL) February 26, 2014
Improper mechanics
The first thing I noticed when watching film on Carr was his frustrating lack of proper mechanics.
Though he has the arm strength to shred NFL defenses right now, Carr has the tendency to hold back on deep passes. Where the top quarterbacks in this class utilize their hips for torque and rotate their back leg when driving the ball down the field, Carr almost looks like he's leaning back when throwing the ball past 20 yards.
What this tells me is that Carr doesn't trust his arm strength. The quarterback is holding back because he isn't able to fully rein in his prodigious cannon on long passes.
The result is that Carr lofts deep balls and gives defenders enough time to recover and make plays. Of course, there are times when Carr flashes greatness and throws a perfect spiral just out of a cornerback's reach, but more often than not the signal caller turns throws that he can make into 50-50 jump balls down the field.
Especially when facing pressure, Carr doesn't step into his throws, as the GIFs below illustrate.
I'm not terribly worried about this, because unlike a lack of arm strength, Carr's lack of trust in his ball-control is a coachable flaw. He'll need to work extra hard in training camp if he's going to become more confident in his ability to fire accurate dimes down the field, but if I'm an NFL team, I'll bet on my coaching staff to put in the hours with a quarterback of Carr's skill set.
That said, accuracy is a much tougher asset to develop. It's not an easily-coachable skill that can be fixed overnight.
Carr has missed very badly on various intermediate throws in the past. The field general's lack of accuracy stems from his inconsistent mechanics and I have to wonder if Carr will revert to these mechanics when the pocket breaks down at the next level.
Looking back to just a few seasons ago, Matthew Stafford garnered the No. 1 overall selection in the 2009 NFL Draft. From purely a talent perspective, Stafford and Carr are very similar.
A number of quarterbacks in the NFL have figured out a way to succeed with an average arm, but Stafford isn't one of them. He's always had a strong arm, and when he's in a rhythm, the Lions QB can sling it around as well as any other quarterback in the league today. With a little coaching, Carr could do the same.
Lacking a killer instinct
That said, Carr didn't seem to have the killer instinct that quarterbacks like Bridgewater, Manziel, Bortles and even Brett Smith have. Carr's Bulldogs ranked 50th in the nation on third down, behind No. 2 Louisville, No. 8 Texas A&M, No. 14 UCF and No. 30 Wyoming. Even David Fales' San Jose State Spartans, at No. 42 in the nation, rank ahead of Carr's team on third down.
Carr's team was up 17-0 against Utah State in the Mountain West Conference Championship, but the quarterback was unable to counter some late Aggie drives and his team escaped with just a 24-17 victory.
In Carr's final game, the signal caller couldn't match USC's high-powered attack and Fresno State got blown out 45-20, leaving a lasting image of the quarterback ending his collegiate career in defeat.
While he may have displayed charisma and charm in interviews at the Scouting Combine, I didn't see him will his team to win on film like some of the other quarterbacks in the class have.
The bottom line
Look for Carr to impress scouts at his Pro Day on March 20, when he'll rifle passes into tight windows in a controlled environment. His draft stock will likely rise after a superb workout that day, as unwarranted a rise as that may be.
My final evaluation on the quarterback is that he has the physical tools needed to succeed in the NFL, but he's not ready to be a first-year starter and, as such, isn't worthy of an early first-round selection. Because of his remarkable skill set he's the type of player who can blossom into a star, so a team looking for its quarterback of the future could spend a late first or early second round pick on him. He has a lot of work ahead of him in the future, and he'll need to work hard on his mechanics before operating behind center for an NFL team.