Wyoming quarterback Brett Smith declared for the 2014 NFL draft as a junior and wasn't invited to the Scouting Combine. His only chance to showcase his athleticism will be at Wyoming's Pro Day on March 13.
Regardless, the signal caller is high on my big board.
Any conversation about Brett Smith has to start with the way the Wyoming quarterback competed against Nebraska this year. In a game that had the Cornhuskers up 31-14 late in the third quarter, Smith brought his Cowboys back in a furious fourth quarter comeback, pulling his team to within a field goal, down just 37-34. Though Nebraska won, Smith showed impressive moxie and poise in the contest, and passed for 383 yards (4 TDs, 1 INT).
Along with film study, I like to see what other experts are saying about a prospect. Back in December, CBS Sports' Dane Brugler had the following to say about the quarterback:
"Smith, who is reminiscent of a more controlled version of Johnny Manziel, is a better athlete than given credit with deceiving mobility and very quick feet to be elusive in the pocket and avoid pressure. He has good-enough height and has worked hard to bulk up his frame, spending considerable time in the weight room. Smith scans the field quickly, works through his reads and does an excellent job recognizing soft spots in coverage pre-snap. He is a gutsy competitor who plays the game of football with a chip on his shoulder and he'll win over NFL coaches with his attitude, work ethic and overall football passion…Smith is extremely confident, but almost to a fault as he tests small passing windows too often, throwing into tight coverage and hoping for a positive play. He has good enough arm strength for the next level, but lacks elite velocity."
While it's nice to talk about intangible qualities, as an evaluator of talent, I care more about a player's on-field ability. Smith has loads of it.
The first thing that one will notice about Smith on tape is his mobility. Smith escapes from pressure and keeps his eyes downfield well. The only quarterback in this class who is more mobile in the pocket than Brett Smith is the aforementioned Manziel, and that's saying something.
The following GIFs are solid examples of Smith keeping the play alive and finding a receiver down the field.
Not only can Smith make plays with his legs in the pocket, but he's also a solid runner as the following plays demonstrate.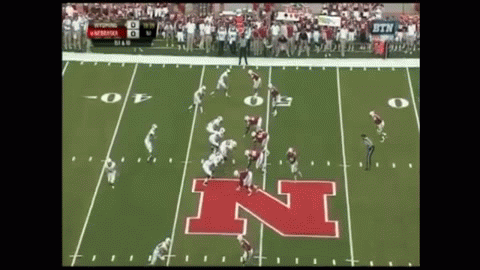 That said, Smith is going to win games by throwing the football and he's one of the best in the 2014 class at completing NFL throws. He displays an uncanny knack for throwing the ball just outside of a cornerback's catch radius, especially on sideline throws.
What he does well:
Most quarterbacks aren't able to complete deep outs and smash routes on a consistent basis in college. Smith is one of the few field generals able to do such.
Brett Smith's intermediate range, pinpoint accuracy, and willingness to put it into tight windows is as good as anyone in this class.

— Matt Waldman (@MattWaldman)

Brett Smith should have gotten a Combine invite. It's a joke he didn't. My point is Top 3 QBs at least get invited. Teams would demand it.