Iowa tight end C.J. Fiedorowicz has made his case as one of the top tight ends in the 2014 NFL draft class.
While he doesn't have the elite receiver skill set that players like Eric Ebron, Jace Amaro and Austin Seferian-Jenkins possess, Fiedorowicz is the complete package.
At the Scouting Combine, the Iowa product checked in at 6'5" and 265 pounds, which is above average for a player of his position.
STRENGTHS
When talking about Fiedorowicz's strengths, one has to start by mentioning his frame. He's bigger than a lot of linebackers and can bully defenders in the run game as soon as he enters the league. Fiedorowicz uses his big body to out-leverage defenders at the point of reception. The tight end boxed out linebackers in man-to-man coverage at the collegiate level and it's reasonable to expect him to do the same in the NFL.
Another desirable trait that Fiedorowicz possesses is a reliable pair of hands. The tight end doesn't struggle with drops and is the type of pass catcher that can be a quarterback's best friend at the next level. While he's not Jason Witten, Fiedorowicz is a sure bet to reel in the reception if given a reasonable throw .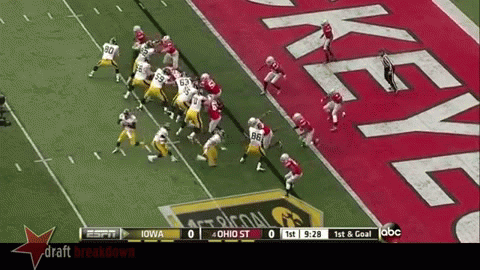 While any receiver with good hands can make every catch when open, Fiedorowicz finds a way to make catches in traffic on a regular basis. It's as though the tight end doesn't mind being covered—Fiedorowicz's long arms allow him to stretch out and catch the football with a defender in his face. While NFL teams scramble to find linebackers and safeties who can cover tight ends in man-to-man coverage, whichever team snags this in-line receiver will have a leg up.
In terms of straight-line speed and route running, Fiedorowicz is good enough. He's not the fastest tight end available, but he has the speed to survive as a starter in the NFL. Also, the former Iowa standout runs solid routes and can beat a majority of defenders with his in-cut.
Fiedorowicz isn't a perfect prospect, though.
WEAKNESSES
Despite the fact that he's one of the bigger tight ends available, Fiedorowicz isn't a consistent run blocker. At times, he struggles to lower his pad level and deliver crushing blocks. If the prospect can show more of a willingness to drive out defenders in the run game, he'll be able to make full use of his prodigious frame and impressive strength.
Also, while he hauls in a good percentage of his targets, Fiedorowicz rarely does much after the catch. He looks lost in the open field and doesn't appear to really have a go-to move when trying to get by defenders. He'll haul in a good number of receptions, but expecting the tight end to do much with them is a bit ambitious.
Fiedorowicz's production isn't on par with the draft's other elite tight ends. While the Iowa star caught 30 passes for 299 yards and six touchdowns, Eric Ebron produced 62 receptions for 973 yards and three touchdowns. By comparison, Jace Amaro caught 106 balls for 1,352 yards and seven touchdowns. One has to wonder whether or not Fiedorowicz will be able to put up meaningful numbers in the NFL. He has the skill set to do so, but hasn't yet proven he can. Such is a cause for concern and a potential red flag.
OUTLOOK
Fiedorowicz is a plug-and-play tight end who can make it in the NFL. He's not the flashiest of prospects, but he's the type of reliable pass catcher who can stick on any roster. He's not good enough to be a first-year starter, but as he develops into a better run blocker and also polishes his moves in the open field, Fiedorowicz figures to be a very solid tight end.
Offensive coordinators at the next level will find early on that Fiedorowicz excels at getting open and hauling in balls over the middle. He's the type of pass catching threat that can be used to keep middle of the field defenders honest, which has its place in a lot of offenses. He won't be the No. 1 receiver on any team, but he'll facilitate the growth of other pass catchers on his team by acting as a safety valve a lot of the time.
Look for Fiedorowicz to come off the board in the middle rounds.