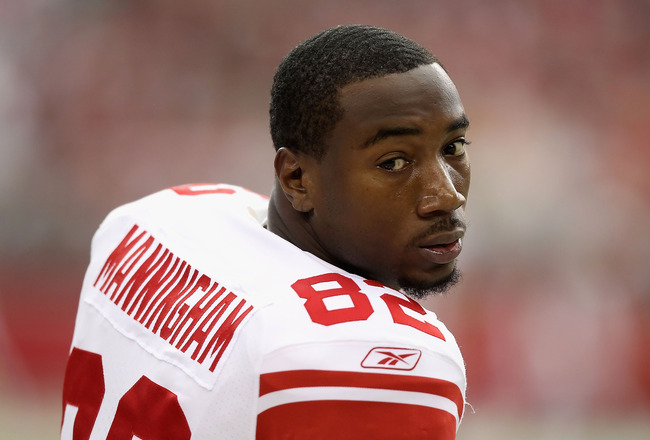 The strong have only gotten stronger in the NFC West, as the San Francisco 49ers appear ready to dominate this division again this year, while the rest of the division is largely running in place. The Rams at least have some hope of an improved record, if only because things couldn't get much worse than they did in a disastrous 2011.  
San Francisco 49ers (13-3, NFC West Champs)
New signings:
Retained:
Free agents lost:
RB Rock Cartwright
RB Brandon Jacobs
QB Josh Johnson
WR Mario Manningham
LB Ahmad Brooks
WR Ted Ginn Jr
LB Tavares Gooden
CB Carlos Rogers
QB Alex Smith
LB Blake Costanzo
WR Josh Morgan
G Adam Snyder
DB Shawnte Spencer 
Potential breakout: Mario Manningham
Ready to Repeat: Don't look now, but Jim Harbaugh may be building a juggernaut that can get deep into the playoffs again and again. The question, though, after losing out on an 11th-hour bid for Peyton Manning, is whether they can go all the way with Alex Smith as their quarterback. At the very least, the front office has given him a new weapon to work with in Mario Manningham, perhaps the most important acquisition in the division.
Manningham was a tricky free agent commodity, with his agent reportedly seeking a #1 WR type contract when the player is clearly not a #1 wideout. Manningham is an effective deep threat with admirable ball skill, but doesn't have a great catch rate nor is he the most reliable route runner (as was made explicitly clear by Cris Collinsworth during the playoffs). However, as a deep-field complement to Vernon Davis, Michael Crabtree and Ted Ginn, Manningham finds himself in a perfect situation. That is, if Harbaugh opens up the aerial game more than he did in 2011. The acquisition of Brandon Jacobs, joining an effective platoon of Frank Gore and Kendall Hunter, suggests that a lot more ground-and-pound may be in the 49ers' offensive future. 
One burning question faces this team's offseason, though: why did Peyton reject San Francisco? Peter King suggests that "the Super Bowl-or-bust atmosphere would have hounded Manning in San Francisco," but that doesn't seem to jibe with Manning's ultra-competitive nature. Is he not chasing championships in Denver? More likely, Harbaugh wasn't ready to give anyone else the full reins on offense. Time will tell if Harbaugh's approach will get them to the Lombardi trophy, but they have done everything you could ask to reload for another run. 
Grade: A
---
Arizona Cardinals (8-8)
New signings:
Retained:
Free agents lost:
G Adam Snyder
OT D'Anthony Batiste
OT Levi Brown
WR Early Doucet
K Jay Feely
QB Kevin Kolb
WR Stephen Williams 
DB Sean Considine
CB Richard Marshall 
Potential breakout: Early Doucet 
Doubling down on bad bets: The Cardinals' 8-8 record feels a little like kissing your sister. Apparently that's an acceptable outcome in Arizona, because the front office has signed up for another go-round with essentially the same horses.
While finishing the season a .500 is never a team goal, it was a surprisingly good outcome for a team that opened the year with a 1-6 mark. The troubling part about the team's 7-3 charge at the end of the season (led mostly by John Skelton) is that it reopened debate about whether Kevin Kolb was still the team's future at quarterback. Considering the price paid to get him, it would have been difficult to imagine the Cardinals cutting Kolb after only one season, no matter how uneven his play was. But the question wasn't settled until GM Michael Bidwill finally grit his teeth and decided to pick up Kolb's $7 million roster bonus for the upcoming year.
More surprising than the decision to keep Kolb around is the decision to keep his achilles heel, left tackle Levi Brown. Brown has been consistently rated as one of the very worst tackles in football for several years running. Pro Football Focus rated him 72nd of 77 tackles in 2009, dead last among 78 tackles in 2010, but the light appears to have come on in the last half of the 2011 season. He finished with only 2 sacks allowed in his last seven games, an unheard-of run of success (for Brown, anyway).
Even if Brown comes back fully motivated and Kolb is able to replicate Skelton's success in a firmer pocket, it's hard to say that the Cardinals stand an improved team from a year ago.  
Grade: D 
---
Seattle Seahawks (7-9)
New signings:
Retained:
Free agents lost:
QB Matt Flynn
DT Jason Jones
RB Kregg Lumpkin
T Frank Omiyale 
DE Red Bryant
LB Heath Farwell
RB Marshawn Lynch
G Paul McQuistan
FB Michael Robinson 
TE John Carlson
G Robert Gallery
OT Mike Gibson
DE Anthony Hargrove
QB Charlie Whitehurst 
Potential breakout: Matt Flynn 
Low risk, high reward? Of course the Seahawks had to re-sign Marshawn Lynch, who will be only 25 this season, and getting Jason Jones to round out their defensive line is a good thing. But the job of rating the Seahawks' offseason boils down to the team's one huge question: how do you like Matt Flynn as the starting quarterback? 
My answer? Not very much. At least, not much more than I liked Tarvaris Jackson, a highly mobile player who showed a surprising amount of playmaking ability for Seattle last year. Perhaps Flynn is marginally better – not as strong-armed, certainly not as mobile, but perhaps a more reliable pocket presence. Maybe. Depending on how much you can make these kinds of judgments on a tiny sample size of actual NFL games played. 
The one positive that can be said about the Seahawks' gambit: they paid significantly less than Arizona did to grab some other team's backup. And they are far less committed than Arizona is. But is that a good thing for Seahawks fans? Only in relative terms, I suppose. 
The good news for Seattle is that Pete Carroll has managed to squeeze consecutive 7-win seasons with essentially hand-me-downs under center. The bad news is that it looks like he'll have to do it again. 
One under-heralded move was retaining Paul McQuistan, who stepped in off the bench and played rather well for the Seahawks down the stretch. He will slide over and replace the departed Robert Gallery, who just wasn't very good despite being reunited with offensive line coach Tom Cable.   
Grade: B- 
St Louis Rams (2-14)
New signings:
Retained:
Free agents lost:
CB Cortland Finnegan
DT Kendall Langford
OT Quinn Ojinnaka
WR Steve Smith (NYG)
C Scott Wells
none
CB Ron Bartell
LB Chris Chamberlain
P Donnie Jones
WR Brandon Lloyd 
Potential breakout: whoever the Rams draft at WR. 
The rebuilding starts again. With apologies to Peyton Manning, the Rams may have landed the biggest free agent of the offseason when they signed Jeff Fisher to be their new head coach. While Peyton will assuredly bring more wins over the next season or two, Fisher has the chance to overhaul the Rams completely and help build a consistent winner for a franchise that hasn't had a winning decade of football since the 1980s. 
The 2010s aren't off to a very good start for Fisher's new team, as the all-rookie Spagnuolo-Devaney-Bradford trio bottomed out quickly with a 2-14 record, giving the Rams the second overall pick in the draft and an opportunity to clean house for the second time in four years. And Fisher has lost one of his key assistants and closest friends in coaching to the Saints' Bountygate scandal.  
But that said, Bradford is still young and potentially a franchise asset, and the Rams' approach to the offseason has been to rebuild the offensive core around him, starting with the intelligent former Packer Scott Wells. Fisher also landed two key pieces for his defense in Cortland Finnegan (a shutdown slot cornerback) and hole-plugger Kendall Langford to slot between Chris Long and Robert Quinn on the defensive line. Both players will contribute, but neither immediately adds wins to the standings. 
However, this is a long-term rebuild in progress, and making responsible moves in free agency should be prized over last year's desperation quick-fixes that blew up in the Rams' faces. 
The biggest head-scratcher of the offseason, though, was why the Rams played it so cool with Brandon Lloyd, their sole offensive threat in the passing game. While this year's class of wide receivers in the draft is very deep, there is no AJ Green at the top who is head-and-shoulders better than anyone else. This could make the Rams first round pick — now at #6 after a landmark trade with the Redskins — a very tricky one to predict. 
Grade: B+