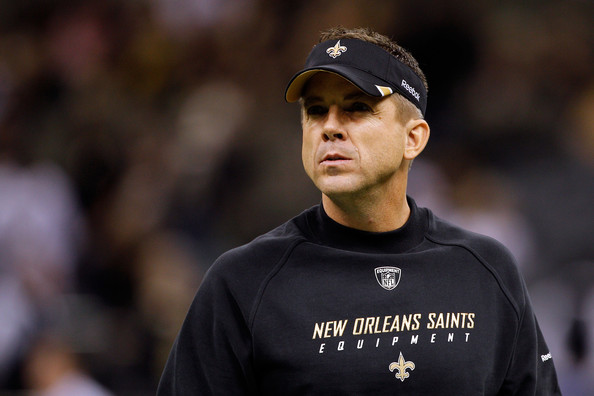 We are still almost a month away from the 2012 NFL Draft, but several teams have already had a rough offseason. After an unprecedented wave of personnel shakeups in such a short time, here's an early look at offseason losers (in order of being hurt the most):
New Orleans Saints
Remember when their biggest issue was trying to lock Drew Brees into a long-term deal? That, along with everything else football–related in New Orleans, has been tabled in the wake of Bountygate. There's now a black eye on an organization that had been a beacon for the Crescent City, just a couple of years removed from a Super Bowl title.
With coach Sean Payton suspended for the season, it makes pleasing Brees more of a priority than ever. Not only is Brees the person that knows the offense best without Payton's play-calling, he's the one shining light who can help the Saints start to climb out of their dark place.
— Busted but not broken: Brees provides hope for damaged Saints
Although they made wise player moves — keeping wideout Marques Colston, letting receiver Robert Meachem go, replacing Pro Bowl guard Carl Nicks with Pro Bowl guard Ben Grubbs, adding defensive tackle Brodrick Bunkley — the consequences of their pay-to-injure program will have lasting effects.
New York Jets
Even though the Jets reportedly had a divided locker room because of quarterback Mark Sanchez and had questions about his ability as a passer and a leader, they reaffirmed their commitment to him by giving him a three-year contract extension.
Then they decided to acquire Tim Tebow, who outdueled Sanchez on the way to taking the Broncos to the playoffs last season. Sanchez says he's OK with having Tebow as a backup and Wildcat option, but the quarterback they first signed to be the primary backup, former Detroit Lions backup Drew Stanton, isn't happy about it and wants out.
— Meadowlands zoo: Jets step in it again | Tebow-Ryan mismatch
While cross-town rival the New York Giants raised the Lombardi Trophy, the Jets continue to make decisions that seem more about drawing attention than making themselves a better team.
The Sanchez-Tebow situation already creates a different kind of rift for the players. Coach Rex Ryan and general manager Mike Tannenbaum are under heavy pressure for the team to produce after the Giants won Super Bowl XLVI and the division-rival New England Patriots won the AFC. As the mess continues to get bigger, there's bound to be a clean sweep ahead.
Miami Dolphins
They didn't get Peyton Manning or Matt Flynn as their next starting quarterback — and they no longer have Brandon Marshall as their top wide receiver. On defense, they were able to keep nose tackle Paul Soliai and add cornerback Richard Marshall, but first-year coach Joe Philbin is sorely lacking the firepower to have even a smidgen of the passing game he enjoyed as Green Bay Packers offensive coordinator.
The lack of results in free agency should come as a big disappointment for owner Stephen Ross, especially after his decision to stick with general manager Jeff Ireland.
— Smells like rotten fish? It's just the Dolphins
Ireland is feeling the heat from Miami's hungry fan base, and deservedly so. Since Bill Parcells stopped "buying the groceries" for this team in 2010, the cupboard has looked bare.
Like the Jets, the Dolphins are stuck in an AFC East, where New England reigns supreme and made upgrades on offense and defense this offseason. Meanwhile, the Buffalo Bills have been aggressive and landed the biggest defensive prize in free agency: end Mario Williams.
Suddenly, it feels like the Jets and Dolphins have been eclipsed by the Bills.
Cincinnati Bengals
They had approximately $50 million to spend under the 2012 salary cap, and yet their biggest additions to a playoff-team roster are guard Travelle Wharton and running back BenJarvus Green-Ellis.
— Cincinnati adds claws to its ground game
It's a good thing owner Mike Brown got a good return in a 2012 first-round pick and a second-rounder in 2013 for former starting quarterback Carson Palmer because Brown has done little to help second-year man Andy Dalton build on a strong rookie season.
The team also lost Jonathan Fanene and Frostee Rucker, two key parts of its defensive line. The Bengals now will need to hit home runs with their two first-round picks, Nos. 17 and 21, if they hope to remain a postseason factor in a tough AFC.
Cleveland Browns
Just like the Bengals, they can look forward to two first-round picks, Nos. 4 and 22. But as the only team in the AFC North that didn't make the playoffs last season, the Browns haven't thrilled anyone with the additions of defensive linemen Rucker and Juqua Parker.
They also saw their former franchise face, Peyton Hillis, join former offensive coordinator Brian Daboll in Kansas City. But losing safety Mike Adams to Denver is an even bigger hit.
— Holmgren: Browns made strong bid for No. 2 pick, Griffin
The Browns also decided to stick by Colt McCoy as their starting quarterback, choosing not to enter the fray for either Manning or Flynn. The Browns must add a big-name impact rookie — such as running back Trent Richardson — to get back on the offseason map.
Oakland Raiders
It started early, when new general manager Reggie McKenzie quickly put his stamp on the team by firing coach Hue Jackson. Salary concerns then caused the Raiders to cut two good defensive starters, cornerback Stanford Routt (now a Chief) and linebacker Kamerion Wimbley (now a Titan). They better hope both Palmer and running back Darren McFadden stay durable and produce, given Jason Campbell and Michael Bush both left for the Bears.
— Michael Bush leaves for Bears
Unlike the Bengals and Browns, the Raiders are handicapped without a first-round pick. Just when it looked like they had turned the corner at midseason, the Silver and Black took a big step back.
Manning will like playing them twice this season.