Some of the best players in the NFL will be free agents next season, and there will be a slew of teams trying to persuade them to join up. While running backs like Ray Rice and Matt Forte are probably looking at a big payday and a long list of suitors should their current teams decide not to lock them up, that is not the case for all free agents.
Players like Peyton Hillis and DeSean Jackson will have to find big money elsewhere, as they aren't likely worth top five money at their positions. While bringing in the right free agent can make the difference in putting a team over the top. See Reggie White to the Green Bay Packers in 1993. The wrong signing can poison a team and set them back even further in the process of building towards a Super Bowl. See Albert Haynesworth to the Washington Redskins in 2009.
Because of their age, injuries or the drama that surrounds them, some free agents just aren't worth the risk or the hassle of a contract. Here are ten free agents that come with a buyer beware warning heading into the off season..
Alex Smith
What's The Risk: Smith revived his career under new coach Jim Harbaugh this season. He finished the regular season with career bests in completion rate (61.4 percent), passing yards (3,150), yards-per-attempt average (7.1), and TD-to-INT ratio (17:5). Through the early portion of the season, the Niners slowly opened up more of their offense for Alex Smith who did nothing but make smart decisions. He's more efficient than productive, but another season or two under Harbaugh could really help him turn his career around completely. Still is one above average season out of seven enough to warrant top quarterback money?
Who's likely to take the risk: San Francisco 49ers. Smith is a former No. 1 overall pick, the Niners paid him $31.9 million over his first six seasons. Smith is in a contract year and the 49ers rank 29th in passing yards per game. There's no question that Smith has more value to the Niners than any other team, so they'd likely be bidding against themselves. In terms of annual value, Ryan Fitzpatrick's six-year, $59 million extension would probably be a reasonable target for both sides. Smith played this season for $4 million with another $900,000 available in incentives.
Peyton Hillis
What's The Risk: Last year, Peyton Hillis burst onto the national scene with 1,177 rushing yards and 11 touchdowns—enough to earn affection of NFL fans nationwide. This year, however, Hillis has become the subject of disdain from Browns fans and fantasy owners.
Cleveland has already informed Hillis that they will let him test the open market, and it's pretty safe to assume he won't return. With the news that the Cleveland Browns are prepared to let their star running back walk at the end of the season, the latest player to fall victim to the "Madden Curse" ought to have no shortage of suitors.
After all, who doesn't want a young, 250-pound wrecking ball coming off a 1,000 yard, double-digit score season, right? Wrong.
270 carries (his 2010 total) is a heavy load to bear for runners like Hillis, who are built to run over, rather than around, the roadblocks in their path. Are the niggling injuries this season a precursor to bigger ones down the road? Can he replicate his 2010 season again in the future? Of course he can. But there are reasons not to pay him, to find out.
His attitude throughout the contract situation has been terrible. His own teammates are on his case; there's a feeling that his selfish behavior has let the Browns down at a time when they need him most. A long contract for Hillis represents more risk than reward. Steer clear.
Who's likely to take the risk: Redskins. Mike Shanahan drafted Peyton Hillis in the seventh round of the 2008 Draft, and he could be reunited with the 240 pound running back this offseason. The Redskins have the second worst rushing offense in the league, and Hillis could help bolster a clustered backfield that lacks a defined number one back.
DeSean Jackson
What's The Risk: Imagine you are a salesman for a company. You are one of the best salesman in the industry, but your employer still hasn't given you a pay-raise since you were hired. Rather than boost your salary, your employer hires other salesman and gives them massive salaries.
You would be angry, right?
Well, that's basically what happened to DeSean Jackson this summer, and tensions between he and management seem to reach new heights every day. Granted, Jackson is a very streaky player with a pair of serious concussions, it seems unlikely that he will return to Philly after this year's fiasco.
Who's likely to take the risk: What happens if the San Francisco 49ers get into a shootout? They simply lack the offensive firepower (on most Sundays) to keep up with teams like the Saints and Packers, and they need to add some explosive weapons. The 49ers will be in the market for a wideout this season, and Jackson, a California native, would provide San Fran with exactly what they need.
Jason Campbell
What's The Risk: Given a clean bill of health and an offense furnished with weapons, there's no telling how good Jason Campbell could be. Unfortunately, he has never been able to enjoy both at the same time. Campbell was ousted from Washington after failing to win with a very marginal offense. He came over to Oakland in 2010, but injuries prevented him from asserting himself as a franchise quarterback.
If you need any further proof that the NFL is strictly business, look no further. Jason Campbell found out about the Carson Palmer trade on television, no phone call, nothing.
I'm not sure what the market will look like for a 30 year old game manager, but unless the price is right, avoid.
Campbell has only led a team to a winning season once in his six seasons—in 2007, when the Redskins were bounced out of the playoffs at the wild card stage—which begs the question: Are teams better off developing a young draft pick instead?
Who's likely to take the risk: Jets fans might not want to admit (or acknowledge) it, but Mark Sanchez just isn't that great. Sure, he has his moments, but his erratic play is starting to prove very detrimental to New York's playoff push. By signing Jason Campbell, the Jets would provide themselves with excellent insurance in case Sanchez gets injured or implodes.
Plus, bringing in a QB of Campbell's caliber might light a fire under the Sanchise
Plaxico Burress
What's The Risk: Nobody was quite sure what to expect from a 34-year-old receiver returning after more than two years away from the game. His numbers (612 yards and eight touchdowns) aren't half bad, but there are a couple of reasons Burress didn't quite have the value those numbers suggest. First of all, Burress had his usual low catch rate, nabbing just 47 percent of targeted passes. Only two receivers had a lower catch rate with at least 75 pass targets (Eric Decker and Devin Aromashodu). Burress and the Jets also played a fairly easy schedule of opposing pass defenses, and adjustments for strength of schedule knocked 5 percentage points off of Burress' DVOA rating, dropping him to 58th out of 92 receivers with at least 50 pass targets.
Who's likely to take the risk: Tennessee Titans or San Francisco 49ers. A free-agent-to-be, Burress didn't bomb in his return from a two-year absence, but is on the downside of his career and had little value outside of short-yardage situations. He'll draw interest as a red-zone specialist if he's willing to take a pay-cut from his 2011 salary of $3 million, and a team like the Titans or 49ers could bring him aboard for that reason.
Reggie Wayne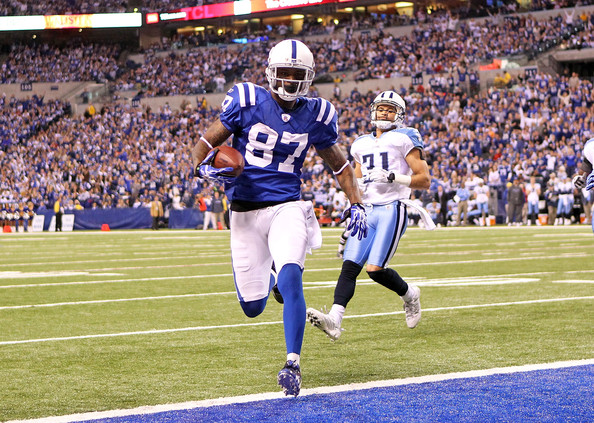 What's The Risk: The absence of Peyton Manning this season has radically altered the perception of the players that surrounded him.
Reggie Wayne turns 33 next week, and with diminishing returns without his future Hall of Fame quarterback supplying the production, he suddenly looks like a prospect to avoid.
His reliability may secure him one final contract—he hasn't missed a regular season game since 2001—but if the Colts decide to clean house after a dismal season, a youth movement like the one we are watching unfold in Cincinnati may leave Wayne without a home.
With an season average of 57 yards receiving per game, he is no longer the type of player that makes those around him look better.
Who's likely to take the risk: They might not need him most, but it's so easy to visualize the Patriots reaching out for Wayne. Chad Ochocinco's struggles won't discourage Bill Belichick from pursuing Wayne, who caught 111 passes last season. The Patriots' passing game is already potent, but they could reap serious benefits from adding a marquee wideout like Wayne.
John Abraham
What's The Risk: John Abraham is a solid defensive end who has six double-digit sack seasons through his 12 year career in the NFL.
At 34 however, his best bet of a final payday will come in Atlanta, who are the team most likely to pay a premium in the hope of one final hurrah.
This year, his play has taken a step back from 2010, and with Robert Mathis hitting free agency at the same time, there are younger, more appealing prospects to invest in at the end of the season.
Who's likely to take the risk: No team soaks more production out of seemingly washed up veterans than the New England Patriots. Abraham is entering the twilight of his career and he is still without a Super Bowl ring. The Pats are desperate for a solid pass rusher, and Abraham could be the piece that team needs to reach another championship.
Aubrayo Franklin
What's The Risk: Aubrayo Franklin was brought in along with Shaun Rodgers before the season to shore up the defensive line in New Orleans. Ranked 17th against the run after nine games however, the signings have yet to deliver against some fairly high expectations.
Franklin had a nice few years in San Francisco, but at 31 years old, is unlikely to improve as he enters the back nine of his career.
NFL pundits nationwide praised the Saints for snagging defensive tackle Aubrayo Franklin this summer. New Orleans inked Pro Football Focus' number two rated run-stuffing interior lineman for a measly $4 million, but Franklin has been a total bust thus far.
The Saints' run defense ranks 19th in the NFL and Franklin has failed to make an impact. Perhaps he is better suited as a 3-4 nose tackle than a 4-3 defensive tackle.
Who's likely to take the risk: Houston Texans nose tackle Shaun Cody has been a pleasant surprise this season, but there's no doubt the team could use an upgrade. Bringing Franklin back to a 3-4 scheme could revive his career and bolster Houston's run defense—plus, they won't have to break the bank for him.
Terrell Thomas
What's The Risk: Giants cornerback Terrell Thomas ascended into New York's starting lineup in 2009 and promptly established himself as a lockdown defender. Thomas intercepted five passes in 2009 and 2010, but he suffered a torn ACL in the preseason, sidelining him for the entire 2011 season.
With Corey Webster and Prince Amukamara in the fold, the Giants might not need to re-sign Thomas.
Another talent with a torn ACL. Terrell Thomas will be 27 by the time free agency opens, so he's definitely young enough to secure one big final payday.
However, the Giants did not have had a chance to see him test out his new knee before potentially tying him down to a long-term deal, which leaves the front office with a contract headache. If Thomas takes longer than anticipated to recover his speed and agility, he could prove to be an expensive liability, in the short term at least.
Who's likely to take the risk: The NFL is currently a pass-happy league and no defense can have enough good cornerbacks. Amukamara will need a few seasons to develop, and Thomas' best days might still lie ahead of him. In order to match up with NFC foes like the Packers, Saints, and Cowboys, the Giants need to re-sign Thomas.
Kyle Orton
What's The Risk: Kyle Orton's career peaked over the 2009 and 2010 seasons in Denver, which coincided with the Josh McDaniels era.
McDaniels is known for his alchemy, turning quarterbacks into gold, so there is a glimmer of hope for teams looking to restore him to his former glory, providing the structure and support is there for Orton.
Bear in mind though, that the Broncos' best year with Orton under center was 8-8. Elway and Fox have clearly cut all ties with him this year, which is an indication that despite his fundamentally-sound technique, something is missing.
Whatever "it" is, Tebow doesn't have it either. After his unceremonious fall from grace, repairing Orton's confidence may take time and effort that ultimately produces no more than a younger prospect would.
Both the Bears and the Broncos abandoned Kyle Orton, but given a stable situation he could easily thrive. Despite captaining some very mediocre offenses, Orton has accrued a 33-33 record as a starter and a 79.4 career quarterback rating.
Who's likely to take the risk: Orton is now a member of the Kansas City Chiefs, and if they chose not to re-sign Matt Cassel, then he could stay onboard. However, the Seattle Seahawks look like a plausible destination. At this rate, the 'Hawks might play themselves out of contention for one of the top quarterback prospects, and Orton would provide a cheap yet substantial upgrade from Tarvaris Jackson and Charlie Whitehurst.