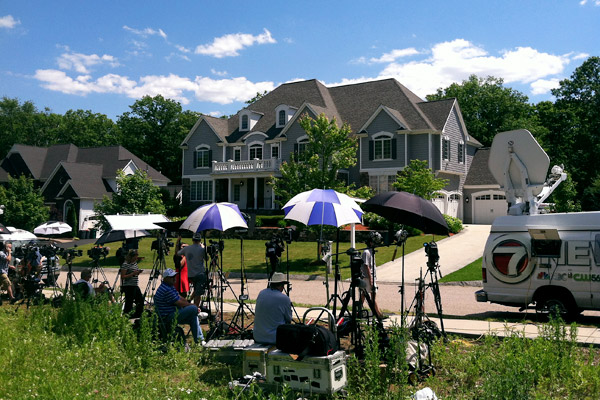 Who would have thought that mass media would swarm the New England Patriots for a story that does not focus on Tim Tebow? Broadcasters smell O.J. Simpson's blood in the water with the investigation of the death of Odin Lloyd and the possible connection to Patriots tight end Aaron Hernandez.
Hernandez is doing everything he can to look guilty, of what I cannot say. Neither can the media right now, but that's not how they are playing it.
Hernandez could learn a lot from Ray Lewis.
The Lewis case
Ray Lewis did not kill anybody on Super Bowl Eve, 2000, when Jacinth Baker and Richard Lollar met their deaths. Members of Lewis' party and of Messrs. Baker and Lollar's party fought violently as they were leaving an Atlanta night club. Testimony by Lewis and witnesses on both sides was that Lewis was not a participant. He did not leave his limousine and he persuaded his side to disengage and leave the scene.
Then Lewis tainted his reputation. He made himself look guilty of something. Hernandez, by all accounts, appears to be following in those footsteps. Oops.
Lessons learned
1 – Do NOT lie to the authorities.
When questioned immediately after the incident, Lewis denied he was in the vicinity of the fight when he very clearly was. That was just silly. There were too many witnesses who said he was there. Denial of what police already knew to be true led them to suspect motive.
You do not want the authorities to turn over every rock to guess at your motive. A jury may believe their story instead of yours because, you know, you lied.
Martha Stewart did not go to jail for stock fraud. She went to jail for lying to the Feds who were investigating her broker.
2 – Do not hide evidence.
There's a saying down here in DC; it's not the crime, it's the cover-up. Lewis conspired with his posse to remain silent when questioned by the police. The suit he wore that night disappeared. For those who read no further than headlines, it was enough to forever condemn him.
Video equipment in Hernandez home and his cell phone was destroyed. The media hints that Hernandez destroyed them. They may be jumping the gun on that. A cleaning service cleaned the house the day after Mr. Lloyd's body was found. That has been made to look suspicious.
Even the innocent pay a price for obstructing investigations, as Ray Lewis well knows.
3 – Cooperate
Cooperation saved Ray Lewis.
At the beginning of the murder trial, Lewis cut a deal with the prosecutor to plead guilty to misdemeanor obstruction of justice in exchange for testifying as a prosecution witness against his former co-defendants, Reginald Oakley and Joseph Sweeting.
Lewis' testimony, corroborated by other witnesses, described a case of self-defense. The jury acquitted Oakley and Sweeting as it would have done for Lewis if he gave the same testimony as a defendant. He very likely would not have been charged at all if he told that story when first questioned by the police.
(This was not a smart prosecution move. If they had not flipped Lewis, he might not have taken the stand as a defendant to give the testimony that exonerated the accused.)
Cooperation freed Lewis in the court of law. Lying convicted him in the court of NFL opinion. The league fined him $250,000 for his role in the cover-up.
It is not clear whether Hernandez was or was not initially cooperative with the authorities. If he is not guilty of anything, cooperating is the best he can do for himself.
4 – If you invoke the name of the Lord, do it the right way.
The families of the two victims won't let go of the loss. When asked before Super Bowl 47 of there was anything Lewis would like to say to the families, Lewis invoked the Lord in the worst way.
"God has never made a mistake. That's just who he is, you see…. To the family, if you knew, if you really knew the way God works, He don't use people who commits anything like that for His glory."
That was a hurtful statement for Lewis to make. It was about him and God and not at all about the victims. It would have been better if he channeled Tim Tebow.
Tebow would have said that the tragic incident haunts him to this day. It has deepened his faith and that he prays for comfort and understanding for the family, but that he was not involved with the deaths and that he told all he knew at the trial where the accused were acquitted.
5 – When people think ill of you, live so none will believe it.
I read this in a Dear Abby (or was it Ann Landers) column years ago. It has been the mantra of Lewis life on and off the field since 2000. It worked. Lewis is an unofficial "first-round future Hall of Famer."
Give Hernandez his presumption of innocence, but damage has been done to his reputation. Balancing that means Hernandez must live in a way, especially on the field, that no one will believe what is now being said.