San Jose State University QB David Fales is getting a lot of attention prior to the draft process as analysts go back and review his tape. Some writers think highly of the small-school product, ranking him immediately after Teddy Bridgewater, Johnny Manziel and Blake Bortles.
But I disagree.
Before forming too much of an opinion on the signal-caller, I talked to former Syracuse quarterback Madei Williams, who now coaches high school and college quarterbacks, about the SJSU product. Williams studied Fales' film and broke down his mechanics, rendering an expert opinion.
"Fales is a mid-round quarterback," said Williams. "He's not an elite guy who will go in the first two rounds, but I believe he'll be an asset at some point. He'll be a quality backup who could thrive in the right situation. I believe that he has the necessary tools to succeed in the NFL. There are guys with worse mechanics who have success."
Prior to the 2013 season I didn't like Fales as a prospect and I like him even less now. First, we must acknowledge what makes the Spartan a prospect worthy of any consideration. Fales has great footwork and impressive accuracy on short-to-intermediate throws. He is aware of pass rushers and has some athleticism, which helps him extend plays and evade pressure.
I talked to Derrik Klassen, a writer for eDraft Sports and a big Fales fan. He had the following to say about the quarterback: "Fales' 'lack of arm strength' is overblown. He drives the ball down field well enough to make any throw on any level of the field. His anticipation is best in the class behind Bridgewater. Likewise, when attacking the seam, few, if any, are more proficient. Fales' ability to improvise and work out of the pocket is not superb, but he has the ability to do so, if need be."
That said, analysts tend to agree that Fales is limited physically. The combination of his questionable height (he checked in at 6' 1 3/8″ at the Senior Bowl) and well-documented trouble with arm strength (which I'll get to in a moment) forces NFL evaluators to wonder whether or not the quarterback has the ability to play at the next level.
Along with his physical limitations, Fales isn't exactly Brady-esque after the snap. The quarterback's tendency to lock onto receivers and force passes into coverage is alarming. Some will compare the quarterback's physical tools to Drew Brees, but it's easy to see how different the two are. Fales doesn't have the arm strength that Brees does.
@PFF_EliNachmany I didn't mean those (though I disagree there.) Physical tool wise, I think he's similar to Brees (Not comparing talent) — Hank Jones (@HankJoness) February 17, 2014
Brees has an easy, fluid throwing motion. When the Saints signal-caller drives the ball down the field, his transfer of weight is quick and efficient. Fales, on the other hand, has a laborious delivery and uses an inconsistent amount of leg drive when making a throw over 15 yards.
While Brees is able to flick his wrist and fire long passes, Fales seems to push the ball, which worries me from a scouting standpoint.
Take a look at the Fales gif and the Brees gif below. They're making essentially the same pass, a long deep throw just left of their body.
Watch as Fales sinks down and bends his back knee in an exaggerated manner, relying on an extra boost from his back leg to heave the ball. This back knee bend is a recurring theme when watching Fales throw long passes. Brees, by contrast, stands tall and cleanly transfers the weight from his back leg to his front leg.
Fales throws deep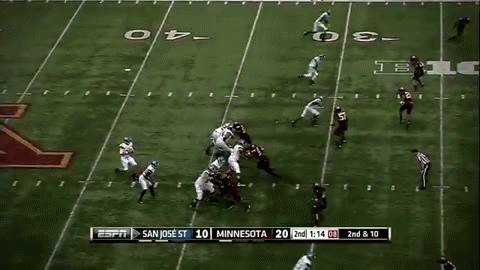 Brees does the same

For the love of QB potential, I sure hope David Fales can strengthen his velocity. Good college football player. . — Matt Waldman (@MattWaldman) February 20, 2014
Many analysts would say that this is a "coachable flaw" for Fales, but it's not. Fales sinks into deep throws because he lacks the natural arm strength that Brees has. No quarterback coach can teach Fales to have a stronger arm to rely on.
When watching the film on Fales, I was amazed at the high volume of screen passes he threw. A good percentage of the quarterback's completions came on throws that didn't cross the line of scrimmage. A lot of Fales' production can be attributed to his receivers' explosive play after the catch.
Quarterbacks that don't have the arm strength to make long passes tend to have trouble with accuracy on throws of 15 or more yards. Fales tends to lob rainbows on deep passes and miss targets past the first down marker, especially those along the sideline.
He doesn't lead receivers at all, many times throwing behind receivers who are wide open and forcing them to adjust. Without much power behind his throws, Fales will have trouble stretching the field. Over the last few seasons, we've seen Christian Ponder, Sam Bradford and Matt Cassel hold their teams back from success with their inability to throw the ball down the field. Fales is made from the same mold as these quarterbacks, except he's even shorter.
Some will still say that his lack of arm strength won't be a problem. Plenty of quarterbacks, like Chad Pennington and, more recently, Andy Dalton, have led their teams to the playoffs with weak arms. The problem is, however, that Fales isn't nearly as good as those quarterbacks after the snap.
Cerebrally, quarterbacks are evaluated in two ways.
One evaluation centers around how they read the defense pre-snap. In this class, Teddy Bridgewater is the best at it. These quarterbacks always seem to have the right audible in mind and can tell what a defense will do before the play even begins. Peyton Manning has made a career out of elite pre-snap reads. Fales is an average quarterback when it comes to making pre-snap adjustments, so there's not too much of an issue there.
The other evaluation, however, is where Fales struggles mightily. After the snap, quarterbacks have to make an entirely new set of reads, going through the proper progressions and finding the open receiver. The better quarterbacks at post-snap reads are usually playmakers, which is why, for the 2014 quarterback class, Johnny Manziel gets the highest grade in this regard. In the NFL, Tom Brady is the best quarterback after the snap.
Fales has a dangerous tendency to lock onto receivers and throw into coverage, expecting something to open up. It's not that he's good at "anticipating", he's simply bad at going through his proper progressions and finding the open man.
Fales throws an ill-advised slant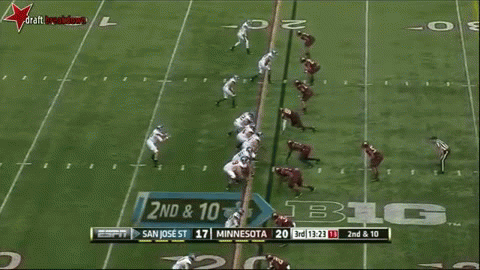 Pennington and Dalton made/make up for a lack of arm strength by consistently finding the open man and making the right throws. Fales does not. A perfect example is how Fales repeatedly insists on attacking the deep sideline against a two high safety shell, regardless of whether the defense is running man or zone and regardless of whether his receiver is open or double covered. Such a willingness indicates that Fales predetermines his throws before the ball is snapped, which is a dangerous quality for a quarterback.
Fales sees Cover 2 Zone, when really it's Cover 2 Man
The argument against Fales isn't that he simply doesn't have the physical tools to play quarterback in the NFL, though that's part of it.
Based on his tape, the San Jose State product is the type of quarterback who will turn the ball over at an obscene rate in the NFL, as he'll think certain routes are open when, truthfully, they're just interceptions waiting to happen.
The only redeeming quality here would be if Fales was a proven winner, one who made other players around him better. However, even that case can't be made, as the quarterback finished 6-6 and didn't even lead his team to bowl game qualification.
Fales was a disappointment in key games against Stanford, Utah State and Nevada. He also threw two interceptions in a loss to Minnesota. While another mid-major quarterback, Blake Bortles, was elevating the play of his teammates and guiding his Knights to a win in a BCS bowl, Fales was languishing in the Mountain West Conference.
Fales was also remarkably poor on third down. His team converted 43.39-percent of their third downs, finishing an abysmal 43rd in the nation. By contrast, some of the other top quarterbacks in the draft performed a lot better. Teddy Bridgewater and Louisville finished 2nd, Johnny Manziel and Texas A&M finished 8th while Blake Bortles and UCF finished 14th. Fales doesn't have a coveted 'killer instinct' on 3rd down and frequently throws the ball away or takes sacks when his team needs a conversion.
Dane Brugler said it best about Fales, noting that he "lacks elite arm strength and struggles to drive the ball on throws of 15+ yards. [He throws] too many rainbows and not enough lasers, causing underthrown deep balls and allowing defenders to react and make a play on the ball.
"[He has a] bad habit of throwing off-balance, causing his ball placement to waver. [He's] overconfident and too willing to throw into coverage and take chances, especially under duress. [He] only [has] average height and lacks elite size for the position. [He] will predetermine passes at times and lock onto targets, even when covered."
This signal-caller is not a potential starter. He's a career backup and fringe spot starter at best. I'd be shocked if he was taken before the third day of the draft.