Donte Moncrief probably isn't going to get picked early in the 2014 NFL Draft. That being said, he possesses great talent, and should not be overlooked.
Moncrief dominated the 2014 NFL Scouting Combine in Indianapolis, catching the eye of many NFL scouts with his impressive measurables and solid numbers.
The former Rebel checked in at 6'2", 221 pounds, which is a perfect frame for a split end. He then ran a blistering 4.40 second 40 yard dash, leaped 39.5" in the vertical jump and hopped 132" in the broad jump. He finished third in his positional group in the 40 yard dash, fifth in the vertical jump and first in the broad jump.
Moncrief's combination of a great workout and NFL-ready frame encouraged me to go back and look at the tape.
The first thing I noticed was the wideout's incredible production. In college football's best conference, the SEC, Moncrief was able to post two straight 900+ yard seasons. He hauled in 66 catches for 979 yards and 10 touchdowns in 2012. In 2013, his production dipped a bit, but Moncrief still put up 59 receptions for 938 yards and six touchdowns.
With a large catch radius, Moncrief wins at the catch point. He has soft hands and and uses his body well on jump balls.
STRENGTH: The former Ole Miss standout makes his biggest impact near the sideline, shredding opposing defenses with curl and fade routes. He has tremendous body control and runs solid routes.
STRENGTH: Moncrief's physicality impressed me. Not only is he a willing blocker, but he boxes out defenders well and isn't afraid to lower his shoulder to go through a tackler. In the gif below, Moncrief is the lead blocker on a jet sweep play that almost scores.
WEAKNESS: While he has a good stiff arm move, Moncrief doesn't do much after the catch. His straight-line speed is phenomenal, but the former Rebel struggles with lateral quickness and agility. Also, Moncrief's underwhelming explosiveness off of the line of scrimmage is a red flag for me; he takes false steps on the snap of the ball.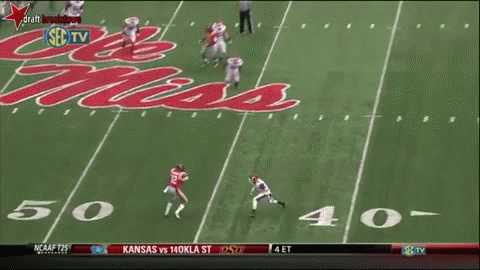 Another problem I have with the wide receiver is that he doesn't make routine catches he usually should. Moncrief had a concerning amount of drops on passes which NFL receivers normally corral.
Either way, Moncrief's positives outweigh his negatives.
How will his skill set translate to the NFL?
Though he's big and strong, the wideout is also faster than just about any cornerback he faces. On post and streak routes, a quarterback simply needs to loft the football just outside of the cornerback's catch radius and Moncrief is sure to make a play. The receiver did struggle from some poor quarterback play at Ole Miss, which may have overemphasized some of Moncrief's bad traits.
A lack of explosiveness off the line of scrimmage is usually a red flag, as it's not a flaw that is easily fixed by coaching. But Moncrief is an exception. The pass catcher finished first in his positional group in the broad jump at the Scouting Combine. The broad jump is usually the best indicator of explosive ability and Moncrief's solid result shows that the physical tools are there for improvement.
The problem is that Moncrief simply has a hitch in his step at the start of the play. Any wide receivers coach worth an NFL salary will be able to correct this issue in training camp, so it's nothing to worry about.
The NFL is starting to see fast, heavy receivers dominate. Calvin Johnson, Dez Bryant and Demaryius Thomas all weigh more than 220 pounds and ran sub-4.4 40 yard dashes at their respective Scouting Combines. They're three of the best receivers in the league.
Recently, research came out that detailed a strong correlation between big and fast receivers and production.
This isn't to say that Moncrief is comparable to Calvin Johnson. He's not.
What I am saying, though, is that the pass catcher has the physical tools to be a big-time difference maker at the next level. His SEC pedigree, great production, route-running skills and ability to utilize his body to box out cornerbacks all come together to make him a truly can't-miss prospect.
Current NFL player comparison and when he might be drafted:
In terms of an NFL comparison, Moncrief compares favorably to Dwayne Bowe, another strong and fast SEC receiver with a similar skill set.
While I dislike grading prospects based on what round they'll be drafted, I have a late first/early second round grade on Moncrief. The more accurate grade on him would be the fact that he's a player who can start at split end in his first season. You can check out my big board, which has Moncrief at No. 36 overall, here.
He can make plays all over the field and dominate smaller corners at the next level. Moncrief is the type of receiver that would complete any receiving corps at the next level, especially for a team with a strong-armed signal caller.