After an entertaining first round of the 2014 NFL Draft, Day Two lived up to the hype and didn't disappoint on Friday evening. Football fans witnessed a solid four hours of trades, value selections, reaches and steals.
After Day One featured runs on wide receivers and safeties, running backs finally saw their names called and were an integral part of rounds two and three. After being shut out on Day One, eight RBs were selected on Friday night.
Some teams fared well, while others swung and missed. Let's take a look at how the second and third rounds played out:
Best Moves Made in Rounds Two & Three


Jacksonville Jaguars drafted WR Marqise Lee (USC) and WR Allen Robinson (Penn State) with back-to-back picks (Nos. 39 and 61) in the second round.
After laying the foundation for the future in last year's draft, the Jaguars have accelerated their ascent to compete for an AFC South title. Blake Bortles needs weapons if he's going to be successful and both Lee and Robinson are first-round talents. Jacksonville has one of the best young groups of skill position players and will be able to contend as soon as this upcoming season.
The two receivers complement each other well. Lee is dynamic and can utilize his speed to take the top off a defense. And Robinson is a big, physical target that catches everything in his area.
This guy has to be happy about it: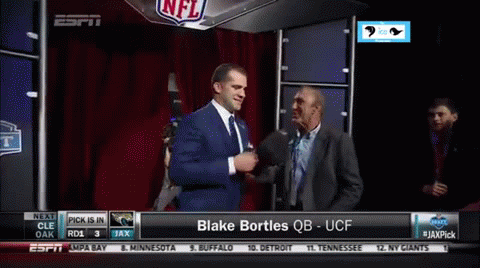 Oakland Raiders selected QB Derek Carr (Fresno State) with pick No. 36.

Carr was the player that Oakland reportedly wanted to take with the fifth overall pick, so getting him in the second round was a best case scenario for the rebuilding Raiders.
Reggie McKenzie has done a great job getting value in the draft thus far. He's now acquired an elite defensive player and his quarterback of the future with his first two picks.
The Raiders are trending upward and will likely be competitive once again in the near future.
New Orleans Saints drafted CB Stanley Jean-Baptiste (Nebraska) with 58th pick.

The Saints lost in the playoffs to a Seahawks team led by the Legion of Boom and its big, athletic group of defensive backs.
Unsurprisingly, in a copycat league, New Orleans went out and drafted a player who could be a Richard Sherman-type. After a luxury pick to upgrade the offense in Brandin Cooks with their first-round pick, filling a need with a corner of Jean-Baptiste's caliber was the right move at the right time for Mickey Loomis and his staff.
Denver Broncos selected WR Cody Latimer (Indiana) with pick No. 56.

Denver may have lost WR Eric Decker (and RB Knowshon Moreno) in free agency, but the Broncos offense still features plenty of offensive weapons and will be just fine.
Latimer is one of the best route runners available and he gains legitimate separation consistently. He excels at running intermediate patterns, and that will suit QB Peyton Manning just fine.  "
Laser rocket arm" gets another solid receiver to add to his arsenal, which means that Broncos fans have reason to believe their team could post gaudy offensive totals yet again in 2014.
San Diego Chargers traded up to select LB Jeremiah Attaochu (Georgia Tech) with pick No. 50.

Attaochu was the last 3-4 outside linebacker available in the second tier of pass rushers (depending on how you feel about Kony Ealy), so the Chargers made a smart move trading up to get him. San Diego might be one piece away on the defensive side, and if Attaochu can legitimize their pass rush against air-attack rivals such as the Broncos and Patriots, this pick was one of the team's best moves.
Houston Texans traded up and drafted DT Louis Nix III (Notre Dame) with pick No. 83.

Nix has some medical concerns, which caused teams to shy away from taking him in the first and second rounds. That said, Houston took a calculated risk with a player who could have easily gone in the middle of the first round from a talent perspective.
The former Notre Dame standout upgrades the Texans' front seven even more and allows Bill O'Brien to continue to build his team from the inside out. The team will now likely feature a young, vaunted defensive front.
QB Andrew Luck and rest of the quarterbacks in the AFC South can't be too happy about this pick.
Worst Moves Made in Rounds Two & Three


The Cleveland Browns didn't draft a wide receiver.

The Browns had a great Day 1, but failed to address a need at wide receiver in the second and third rounds of the draft.
With Josh Gordon facing a possible 1-year suspension and Nate Burleson having recently injured himself at minicamp (again breaking his left arm), Cleveland needed to get new signal caller Johnny Manziel weapons to work with. Now, instead of throwing balls to play-making WR Mike Evans, Manziel will struggle without a go-to No. 1 receiver.
Twelve (!!) receivers were drafted in the first two rounds. How could the Browns possibly pass on one?
New England Patriots selected QB Jimmy Garoppolo (Eastern Illinois) with No. 62 pick.
I'm fine with the Patriots taking a quarterback in Day Two to plan for life without QB Tom Brady.
But Garoppolo is nowhere near as talented as some of the other passers that were available. Players like AJ McCarron and Brett Smith grade out as much better than the FCS star and each would have been a smarter pick in its own right.
Garopollo is a "project" and has a lot of room for improvement. And his ceiling is not as high as other quarterbacks.
Indianapolis Colts reached and selected OL Jack Mewhort (Ohio State) with the 59th pick.
The Colts needed a tackle, but panicked and chose the wrong one.
Mewhort really struggles in pass protection, and he's susceptible to speed rushers with his poor footwork. Indianapolis needed a player to protect Andrew Luck and Mewhort won't be able to do that.
While he may be a solid run blocker, Indianapolis is a passing team. He looks like a guard at the next level, which makes this a subpar pick.
Miami Dolphins drafted WR Jarvis Landry with pick No. 63 (LSU).
Former GM Jeff Ireland is gone, but it doesn't appear as such. The team has made some curious moves in the first two days in the draft.
After missing the boat on the top-tier offensive linemen in the first round, the Dolphins reached for Ja'Wuan James with the 19th overall pick. Similarly, with most of the better receivers off the board in Round Two, Miami jumped the gun and scooped up unathletic, possession receiver Jarvis Landry, who will struggle to get separation and beat cornerbacks at the next level.
Atlanta Falcons reached and drafted S Dezmen Southward (Wisconsin) with pick No. 68.
Southward is athletic, but it seems he lacks the skill set to be a successful starter for a long period of time. And the safety could get abused in man coverage with his slow hips and bad recognition skills.
If Atlanta is trying to build a solid secondary to complement young stud CB Desmond Trufant, they'll need to make more well-informed selections. Reaching for a player like Southward isn't going to help the team slow down pass-happy division rivals like the Saints.
Dallas Cowboys traded up for LB Demarcus Lawrence (Boise State) with 34th overall pick.
Demarcus Lawrence is a solid pass rusher and will produce in Dallas.
The problem is that the Cowboys need more than just a pass rusher to return to the top of the NFC East. In a deal that heavily favored the Redskins, the Cowboys traded their second and third round selections to move up 13 slots and draft a player similar to defenders available at their original pick.
They could've stayed put and retained their draft picks, while still filling a key need.