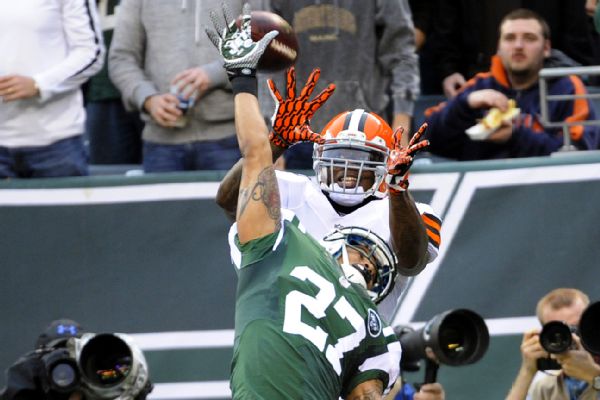 Week 16 was another terrific week for the 1st round draft class, made more impressive by how well some of the guys towards the bottom of the rankings did. Some real pleasant surprises this week. Most surprising perhaps is that Dee Milliner is my highest graded 1st round pick this week. Despite consistently staying at the bottom, he was terrific on Josh Gordon for the majority of the Browns game. Make the jump for the updated rankings as of week 16. One more week to go, and some big games coming up for a lot of them!
1. Sheldon Richardson, DE for the Jets, originally drafted 13th: He had 6 tackles, but with 2 flags he probably had one of his worst games of the year, and he still has no shot at being caught for first place. Regardless of how the final week plays out his lead is so large he'll finish atop these standings.
2. Alec Ogletree, LB of Rams, originally drafted 30th: Only Milliner's monster game against the Browns stopped Ogletree from getting the weekly top spot again. He's securely in second now, and honestly he's worthy of some Pro Bowl consideration. He's been that good and he gets better every week. He had 8 tackles and another half sack this week. The Rams' defense completely shut down the Bucs in large part due to his play.
3. Desmond Trufant, CB of Falcons, originally drafted 22nd: He vaults up two spots to #3 with the season coming to a close. He did a great job for the most part on Anquan Boldin and the 49ers stayed away from him almost all game. He did get victimized, though, on a screen to Boldin where he would get blown out of the play and it would result in a touchdown. Otherwise his coverage was stellar as always and he should absolutely be in the all rookie team.
4. Kenny Vaccaro, S of Saints, originally drafted 15th: He stays at 4 for now, but will likely drop next week as he fractured his ankle and is done for the year. A tough way to end a very good rookie campaign for him. You have to wonder if that game against the Panthers would have ended differently if he was on the field in coverage. He had 2 tackles and played well before getting injured, but he did manage to get two 15 yard penalties in the same sequence, with a facemask followed by a taunt. Luckily the Panthers could only settle for one of the two.
5. Eric Reid, S of 49ers, originally drafted 18th: He's down 2 spots and had 3 tackles against the Falcons. He was beat over the top deep for a touchdown by Roddy White, and he was fortunate to be bailed out late when it looked like the Falcons would win by a NaVorro Bowman pick 6.
6. Star Lotulelei, DT of Panthers, originally drafted 14th: He quietly played the run well against the Saints and had 2 tackles, but left the pressure to Greg Hardy who had 3 sacks. He's not ending the season playing at the level he had earlier in the year.
7. Cordarrelle Patterson, WR of Vikings, originally drafted 29th: This late season surge now has him up to 7, another spot in the right direction. He continues to be a menace on returns, with another 48 yarder this week. He's also seeing more "runs" with 3 carries for 54 yards, including a 35 yard touchdown. He also had 3 catches for 8 yards. He continues to be very dangerous every time he touches the ball and the Vikings are finally using him more.
8. Travis Frederick, C of Cowboys, originally drafted 31st: Another solid game for Frederick in a last second win over the Redskins as he continues to have a solid season.
9. Ziggy Ansah, DE/LB of the Lions, originally drafted 5th: He's back in the top 10 after leaving briefly last week. He had 3 tackles and a sack. He has 8 sacks on the season.
10. Tyler Eifert, TE of Bengals, originally drafted 21st: Despite the Bengals exploding for 42 points he contributed just 1 catch for 6 yards. He down a spot, played almost no part, and you have to wonder if he's fallen out of favor a bit due to his poor blocking.
11. Barkevious Mingo, LB of Browns, originally drafted 6th: He's up a spot and give him credit, he's getting a little bit better playing the run. He had 2 tackles including one for a loss.
12. DeAndre Hopkins, WR of Texans, originally drafted 27th: He seemed like a lock for the top 10 at times this season but as the Texans' season goes down in flames and their offense is in shambles, Hopkins has taken a nosedive. Hopkins had a woeful 1 catch for 8 yards on 4 targets this week and has disappeared along with the rest of his team. He's down two spots this week.
13. Lane Johnson, T of the Eagles, originally drafted 4th: The Eagles' offense blew up for 54 points in a blowout win over the Bears, so of course they were firing on all cylinder. That includes Johnson who had a big game. They still need a win on the road against a Tony Romo-less Cowboys team to get in the playoffs, though.
14. Matt Elam, S of Ravens, originally drafted 32nd: He had 6 tackles in the embarrassing 41-7 loss to the Patriots and didn't give the Ravens the kind of back end coverage they enjoyed the previous week against Megatron. He's down a spot.
15. Xavier Rhodes, CB of the Vikings, originally drafted 25th: He's down another spot as he continues to be out with a sprained ankle. Too bad, because when he's been in he's been much better than this ranking, especially of late. The Vikings sure could have used him this week.
16. Kyle Long, G of Bears, originally drafted 20th: The Bears' entire team imploded against the Eagles, but you can certainly point to Long's run blocking as a culprit along with many others.
17. Tavon Austin, WR of Rams, originally drafted 8th: Down twp spots as he was held out for the second straight week with an ankle problem.
18. Chance Warmack, G of the Titans, originally drafted 10th: He shoots up three spots with a great performance top to bottom in the win over the Jaguars. He hasn't played this well often this season.
19. Justin Pugh, G/T of the Giants, originally drafted 19th: He was credited with giving up 5 hurries against the tough Lions' pass rush but held up ok in an upset win. He's down a spot.
20. Sharrif Floyd, DT of Vikings, originally drafted 23rd: He had 3 tackles and a tipped ball, playing ok. Still, the Bengals had their way against his defense.
21. Dion Jordan, DE of Dolphins, originally drafted 3rd: Down two spots even though he showed more activity than usual. He had 4 tackles but he's still not getting any sacks. His pass rush has been a major disappointment.
22. D. J. Fluker, T of Chargers, originally drafted 11th: He was utterly dominant against the Raiders and graded extremely high, but unfortunately he stunts things a bit with two penalties. A much better game for him, though.
23. Dee Milliner, CB of Jets, CB of Jets, originally drafted 8th: He's been in the bottom three almost all season and he's really clawing himself out late. He's up another two spots and was the highest graded player this week. He did a better job on Josh Gordon than almost anyone this year. He had 9 tackles, 5 defended passes, and an interception returned 19 yards. He held Gordon under 100 yards on 16 targets, and the Browns only scored 13 points. The Jets have to be excited about his progress, he should be much better next year.
24. Jarvis Jones, LB of the Steelers, originally drafted 17th: Down another spot, he was held out due to an illness.
25. Eric Fisher, T of Chiefs, originally drafted 1st: As bad as he's been all year, you figure he'd be horrible in a bad loss to the Colts where his team scored 7 points on offense. But this was actually a decent game for Fisher. Go figure. He's up a spot.
26. Datone Jones, DE of Packers, originally drafted 26th: Down two spots, as he continues to not be included hardly at all in the game plan. With huge stakes and the season on the line, he barely played. That tells you all you need to know about his season. The Packers don't see him as value on the field.
27. Sylvester Williams, DT of Broncos, originally drafted: He's up a spot and for the second straight week he had a monster game. Where is this coming from all of a sudden? 5 tackles, 3 for a loss and a sack? And he was pretty dominant against the run? And this is happening right before the playoffs at the perfect time for the Broncos. Better late than never.
28. E. J. Manuel, QB of Bills, originally drafted 16th: Dealing with health issues he was held out again and he's done for the year, it seems.
29. Bjoern Werner, DE/LB of Colts, originally drafted 24th: An epic defensive performance by the Colts, and he helped with a sack for the second consecutive week.
30. D. J. Hayden, CB of the Raiders, originally drafted 12th: On IR due to an injury, he wasn't that good when he played this season.
31. Luke Joeckel, T of the Jaguars, originally drafted 2nd: Out for the year with an injury.
32. Jonathan Cooper, T of Cardinals, originally drafted 7th: Hasn't played all season due to an injury.
Who's Hot:
Lane Johnson +3
Chance Warmack +3
Who's Not:
Eric Reid -2
DeAndre Hopkins -2
Tavon Austin -2
Dion Jordan -2
Datone Jones -2